NEWS
It's a Morning Party; it's Yellow and Black Party
May 26, 2015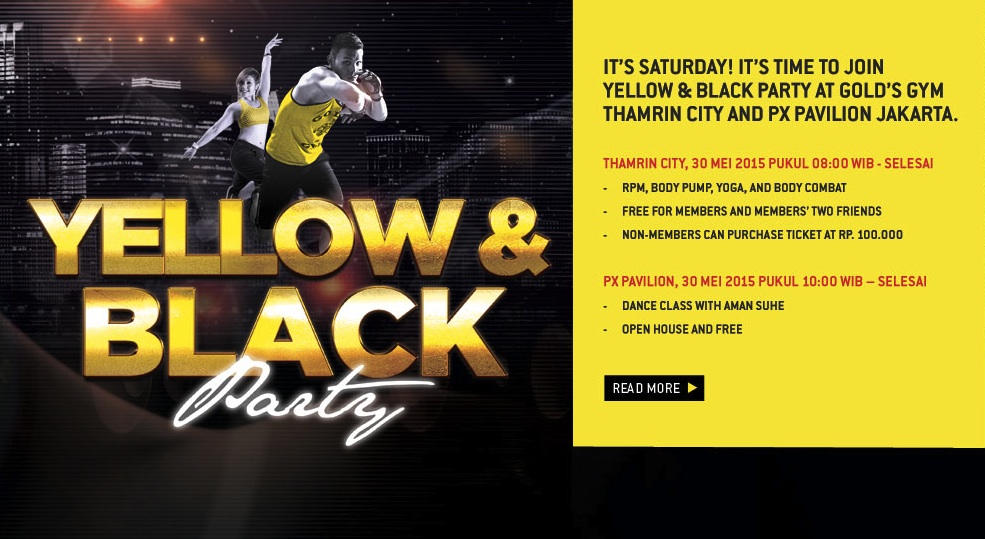 Join the party, sweat it out, and feel amazing! 

Morning weekend workout has always been at the top of our agenda but never materialized. There are numbers of reasons and excuses that keeping us from working out. We find it hard waking up in the morning or we don't have any workout partners. There is a saying that Roma doesn't build in a day; good habits do not grow overnight. You'll need time to get used to sweating before 10 AM. Morning workout boosts our metabolism for 4-10 hours afterward and helps stimulate the production of endorphin and you left feeling energized all day long.   
 
If our morning workout is fun, we are more likely to keep it up, and we'll never be bored again. Group workouts also can be the answer of our morning workout dilemma. Working out together with friends or ten to twenty people are more fun and challenging. The more, the merrier!
 
Yellow and Black Party is here for the morning fighter! Presented in fun and festive approach, Yellow and Black Party loaded with the best GGX classes such as RPM, Body Pump, Yoga, Body Combat and Dance. Do you want to be one of 60 participants of Yellow and Black Party? Please register your name immediately at Gold's Gym Thamrin City and PX Pavilion Jakarta. For Yellow and Black Party at PX Pavilion there is no charge for the event and everyone is invited to attend. As for the Thamrin City, the event is free for members and members are allowed to bring two friends. Non-members also welcomed to join and they can buy the ticket directly at Thamrin City club at Rp.100.000 per person. At both clubs there will be a contest for best-dressed, so dress to impress and go all out at Gold's Gym Thamrin City Jakarta on Saturday, 30 May 2015, 08:00 AM and Gold's Gym PX Pavilion Jakarta on the same date at 10:00 AM.

Don't forget to set the date and time! Let's paint the town yellow and black!
  
Tweet