NEWS
Valentine's Special Classes
February 13, 2014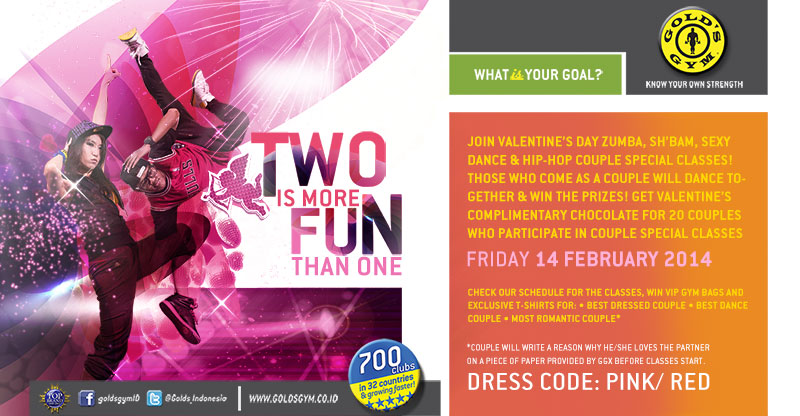 Celebrate a heathier Valentine's Day by joining Zumba, Sh'bam, Sexy Dance, and Hip-Hop Couple Special Classes on Friday, 14 February 2014. 
Those who come as a couple will dance together and win the prizes! Get Valentine's complimentary chocolate for 20 couples who join Couple Special Classes in each club. 
Win gym bags and exclusive T-shirts for:
-Best Dressed Couple
-Best Dance Couple
-Most Romantic Couple*
Dresscode: pink or red 
This event is OPEN FOR PUBLIC
*Couple will write a reason why he/she loves the partner on a piece of paper provided by GGX before classes start. 

Here's Valentine's Special Class schedule:
GG Braga Citywalk: 
-Couple Yoga 17.00 (2 hours) - Agung & Susi
-RPM Challenge 18.10 (1.5 hours) - Andre & Ferry
-Body Combat VS Circuit Challenge 18.10 (1.5 hours) - Dehas VS Imoy 

GG Mal Ciputra: Zumba 17.00 – Agoes

GG Citywalk Sudirman: Sh'bam 18.10 Julia 

GG Mall of Indonesia: Sh'bam 19.20 – Aldie

GG Pettarani Makassar: Zumba 18.30 – Adi

GG PX Pavilion: Zumba 19.20 – Bernie

GG Setiabudi One: Sh'bam 19.20 – Iman

GG Summarecon Mall Serpong: Zumba 19.20 – Olivia 

GG Thamrin City: Sh'bam 20.30 – Andi

GG Pantai Indah Kapuk: Sexy Dance 19.20 -Timo 

GG Grand City Mall: Sh'bam 17.00 – Leo

GG Express Universitas Indonesia: Hip-Hop 18.10 – Dian

GG Express Surabaya Town Square: Sh'bam 18.30 – Valen

GG Express Gajah Mada: Sh'bam 17.00 – Diesty

GG Cihampelas Walk: 
-Fitball Couple 18.10 – Reza & Hery
-Body Pump 18.10 – Astee
-RPM Challenge 19.15 (1.5 hours) - Sandy & Hery
-Belly Dance VS Zumba 19.15 (1.5 hours) - Rohani VS Maikel 

GG Mall @ Alam Sutera: Sh'bam 18.00 – Britt
Tweet