WELCOME TO THE GOLD'S GYM FAMILY
and thank you for choosing Gold's Gym as your place for fitness!
You have made one of the best decisions in your life by joining Gold's Gym.
Since 1965 we have been the recognized authority in fitness industry, and now, every time you come to our clubs, you will be able to experience why nearly 3 million members at over 750 locations in 35 countries around the worlds trust Gold's Gym for their health and fitness. Our gyms are built to help people realize their goals and find their inner strength. Most importantly, you'll find an energetic, supportive environment full of all kinds of people who are committed to achieve their goals. From the best trainers, equipment and programs to the best group exercise classes on this planet,
Gold's Gym™ is the ultimate fitness experience!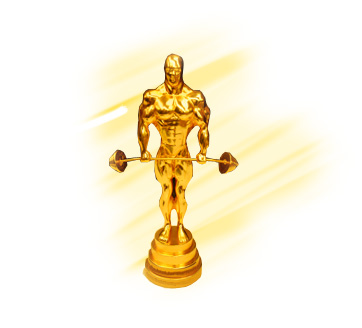 AWARDS
• 2007
- Gold's Gym came to Indonesia
- First Club : Gold's Gym Menteng Huis |Best International Gym – Gold's Gym Convention Award 2007

• 2008
- Master Franchise Award (CEO of Gold's Gym Indonesia, Francis Wanandi – Gold's Gym Convention Award 2008
• 2009
- Best International Gym Award : Gold's Gym MOI – Gold's Gym Convention Award 2009
• 2010
- Top Brand Award 2010 |Fitness Centre Category
• 2012
- Gold's Gym 5th Anniversary - MURI Record Breaking (Kelas GGX dengan Varian Terbanyak)
- Best Marketing Program (Gold's Gym Grand City) – Gold's Gym Convention Award 2012
- Top Brand Award 2012 |Fitness Centre Category
• 2013
- Visionary of the year (CEO of Gold's Gym Indonesia – Francis Wanandi) – Gold's Gym Convention Award 2013
- Top Brand Award 2013 |Fitness Centre Category
• 2014
- Gold's Gym 7th - 7 Cars for Members
- Master Franchise Award (CEO of Gold's Gym Indonesia – Francis Wanandi) – Gold's Gym Convention Award 2014
- Top Brand Award 2014 |Fitness Centre Category
- Digital Marketing Award – Best Performing Website |Fitness Centre Category
• 2015

- Bronze – Wow Brand Award | Fitness Centre Category