NEWS
Gold's Red Carpet
March 30, 2012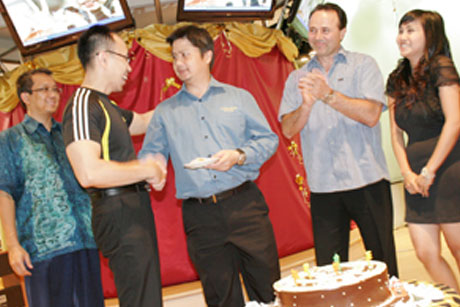 Jakarta, 30 March, 2012 - Gold's Gym Indonesia presented "Gold's Red Carpet" at Mall of Indonesia as a birthday party for one of Gold's Gym Indonesia clubs, the one with the most complete facilities. Coming up with a "red carpet" and sexy glamorous dress code, we want to give a special impression for anyone who was attending the event; they're all the stars for Gold's Gym. The taste of glamorous could also be seen from the decoration and with all the entertainment that night; Special Performance by Mambo, Live DJ, Live Music Performance, Fashion Show performance, Dance Performance, Drag Queen Lip-sync, Guest Pose , Sh'bam Special Class and Live Competitions.

Specifically, this "Gold's Red Carpet" is made to show a big appreciation for every member of Gold's Gym Mall of Indonesia who is being loyal to the club which creates a sense of pride in this 2-year of existence.

This event was opened with a speech from the CEO of Gold's Gym Indonesia, Mr Francis Wanandi. The atmosphere of togetherness was getting obvious while more staffs and members join the singing of "happy birthday." The show was then continued by Pinkan Mambo and her belly dance, Kantata Music School, Dance performance, fashion show which supported by Proshop and Reebok, Guest Pose by 2 Personal Trainer of Gold's Gym Indonesia, and last but not least, the competitions which had been eagerly awaited by many members at that time, which include: Circuit Training, Bicep Competition and Bench Press (Male). Plus, the live DJ who made the atmosphere so hip!!

At the end of the event, all winners of the competition and the member appreciation (member success story) were announced. With this celebration, Gold's Gym Mall of Indonesia wants to introduce the potential and quality of this club that have been developed over 2 years.
Tweet