NEWS
GOLDS GYM Surabaya Sneak Peek
April 12, 2012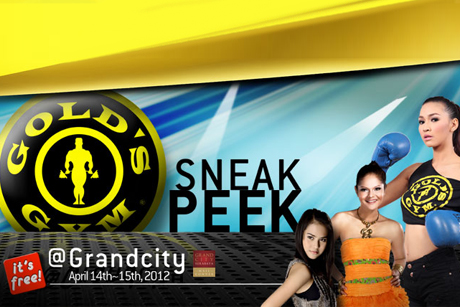 Surabaya, 14 April 2012 - After their success by opening 10 clubs which located in Jakarta, Bandung and Makassar, Gold's Gym expands their business by opening its first fitness club in Surabaya. Yes - today, Saturday, April 14, 2012 Gold's Gym proudly open its first club in Surabaya, and also make this fitness club to become the eleventh club of Gold's Gym Indonesia.
And today, Gold's Gym Indonesia held a "Sneak Peek" which more than 1100 members of the Gold's Gym Grand City who are already became a member can try the latest equipment and facilities of Gold's Gym. Sneak Peek event will begin with a ribbon cutting ceremony that will be undertaken by the CEO of Gold's Gym Indonesia, Mr. Francis Wanandi and its President Director, and Mr. Denis Doulgeropoulos, and Mr. Sim Tang Chuan as the CEO of Grand City Surabaya.
By having the ribbon cutting ceremony, Gold's Gym Grand City Surabaya is officially opened and ready to be enjoyed by the members of Gold's Gym which has been listed since December 2011. And this event will be entertained by some artists like Gold's Gym Indonesia Brand Ambassador Kamidia Radisti and Sony Music Artist, Mytha and Terry who will entertain the event by singing some few songs that became the mainstay of their latest album.
"Gold's Gym Grand City Surabaya has an area of ​​2000m² where it is completed by the facilities that are fully equipped with sophisticated technology. Start with the Touch Screen Plasma TV which is designed for our members who wants to know the schedule of aerobics classes, along with the information of our instructor, personal trainer, promotions, and event news.
In addition, Gold's Gym Grand City Surabaya is also presenting other sophisticated equipment such as Kranking (Read: It is the first exercise program that focuses on the upper body such as the use of cardio. Kranking provides a new way to build strength stability of upper body to burn calories as much as 9 - 11 calories per minute) and this equipment is first time to be presented in Indonesia through Gold's Gym and not thru the other fitness club "said the CEO of Gold's Gym Indonesia, Mr. Francis Wanandi.
"Gold's Gym Grand City is also equipped with facilities i.e: Sauna, Steam, Jacuzzi (read: this is the first Jacuzzi of Gold's Gym Indonesia) and Boxing Ring which is provided for the man who needs more challenging activity yet it is also potential for ladies who likes to use a challenging feature indeed! We are here to provide the health needs of our members with all different ages and gender. With the equipments and facilities that were imported from America as well as Cybex brand and Octane and Star Trac, and assisted by the Personal Trainer who has been certified internationally, we are confident that our members can have a healthier life and getting more fit only with Gold's Gym." President Director of Gold's Gym Indonesia, Mr. Denis Doulgeropoulos.
Besides being equipped with sophisticated technology facilities, Gold's Gym Grand City also has a Pro-Shop, where members can buy gym equipment such as gym bags, shoes and apparels with best quality. And members could also buy some vitamins, supplements, and nutrients. And with the advice given by our nutritionist, member will have their nutrition which work best for their health and based on their need.
During the 'Sneak Peek', the members can enjoy GGX special classes that conducted directly by Gold's Gym GGX Class Director, Rafael Duro. The GGX classes during the Sneak Peek on 14 - 15 April are:
Body Combat
Body Jam
Body Pump
Body Attack
Body Step
Body Balance
Sh'Bam
RPM
BCT, dan
Kranking.
The GGX Classes that will be conducted during the Sneak Peek will be provided to all members of Grand City Club. Members can choose which GGX Class that they mostly prefer and of course they could also consult with our Fitness Consultant in order to obtain further information and having a direction of which class that fit their need. And besides those GGX class that mentioned above, members can also enjoy the GGX Classes i.e: Yoga, Mat Pilates, Zumba, Aerobic, Latin Dance, and Capoeira in future time after the Sneak Peek.

So what are you waiting Surabaya citizen, get yourself ready to Grand City Surabaya and join Gold's Gym Grand City club and achieve your optimal health!
Tweet